And for that you should not be afraid to explore unknown terrain: in a world governed by data, measuring the performance of your company by seizing the digital lever becomes essential.
Digitizing is therefore becoming essential in order to be able to innovate constantly, to ensure a level of productivity that makes it possible to align with international standards.
In this article we discuss the notion of business performance, how to set up performance indicators and what solution to put in place to be able to monitor and analyze it.
What is organizational performance?
In the industrial environment, two types of performance can be distinguished:
Results performance is driven by total customer satisfaction. It is the actors of GEMBA who are the guarantors of this performance.
The performance of the processes is ensured by the management which helps and supports the GEMBA in its quest for results through the 5M support system (Labour, Method, Environment, Machine, Material).
These performances are measured by indicators that collect and organize data from the field.
Performance managers must therefore interpret the data available to identify trends, and revise the actions implemented if necessary.
Performance management is therefore an effective business management tool, because a business must perform to be able to guarantee its sustainability.
However, the measurement system must be properly planned and structured, both at the management and operational levels, to effectively assess the performance of the company.
Some tools, such as Shizen, allow performance to be measured directly from the machines present in the factory thanks to an API integrated into the solution. Thanks to a global approach, a structure and an integrated methodology to guide users, Shizen makes it possible to digitize the different practices of factory performance management.
Why implement business performance indicators?
What counts for a company is its profitability, and to be profitable it must be efficient. Performance cannot be invented, it is created, it is organized and improved: therefore performance management must be practiced.
For this you need data, data is the raw material of continuous improvement. The data is taken directly from the GEMBA: the place where the added value is created. The data is factual, objective and makes it possible to free oneself from everyone's opinion. It is therefore essential to collect this data, verify it and then measure it through indicators.
The implementation of performance indicators in your company allows you to know if the results you opt for are in line with your expectations and if the processes are correctly followed.
If this is not the case, it is necessary to raise a problem, solve it and put in place actions that will rectify the situation.
What is a performance indicator?
The indicators must make it possible to compare the measurement with the standard (process) and to set objectives. Indicators allow the company to monitor key data for its performance on a daily, weekly and monthly basis.
An indicator must allow a decision-maker to assess a situation in order to be able to make decisions quickly. It is used to assess the progress or success of an organization, or the improvement or deterioration of a process, based on specific performance objectives.
A performance indicator never comes alone.
To achieve the objectives of your organization (financial, production, quality, capacity, strategic) you will certainly have to follow several indicators.
We then speak of dashboards or visual management: a concentration of information that makes it possible to judge a situation quickly in order to make a decision if necessary, whether at the strategic or operational level.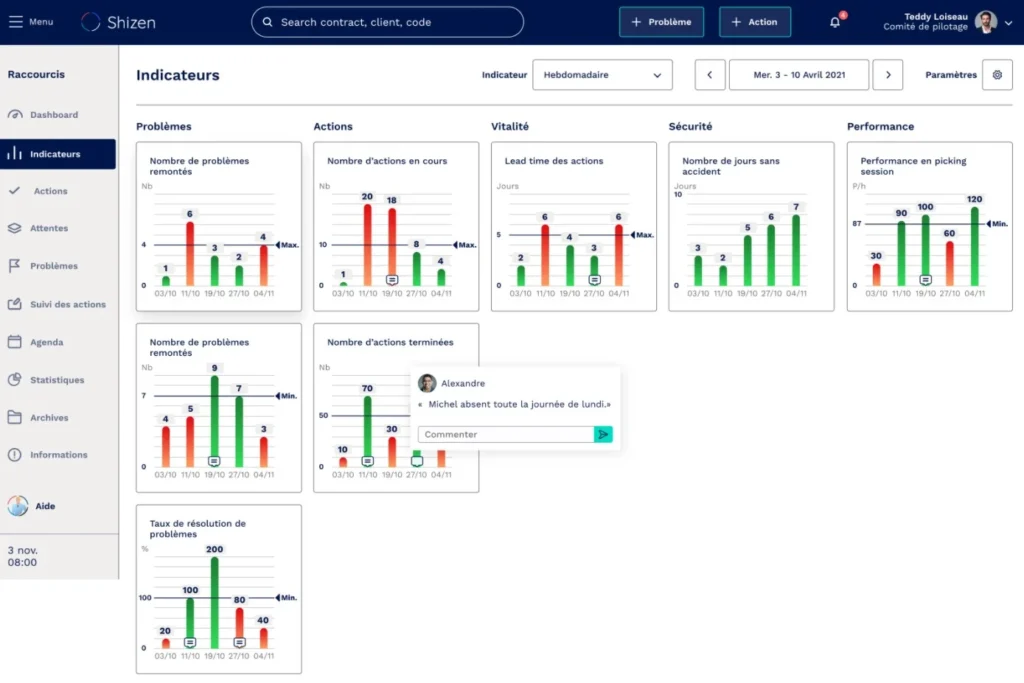 Here is an overview of the Shizen solution which allows you to follow all its indicators on a virtual dashboard. The indicators can be relative to a team, shared with other teams, then reported to management with a data consolidation system.